Plus besoin de presenter Mr Dave White. Entre ses tableaux, ses collaborations avec Nike et sa ligne de vetement, il est devenu un personnage incoutournable de la scene streetwear et sneakers. Interview autour d'un verre a Barcelone.
BBHewee Dis-nous en peu plus sur ton exposition a Barcelone, et ton travail avec le crew de Trust Nobody.
Dave White L'expo s'appelle "The Court's a Battlefield" (Le court est un champ de bataille). Je l'ai fait en lien avec Nike et Trust Nobody pour celebrer le 25eme anniversaire de la Air Force1. J'y ai travaille pendant 9 mois, et il s'agissait de montrer la revolution qu'avait ete la AF1 sur le court, et aussi l'effet qu'elle a eu pour nous autres collectionneurs et amateurs. J'ai utlilise des allusions au theme militaire comme "Chalked up Another Pair" (intraduisible) ou "Air Force Carrier" (Porte-Avion Air Force).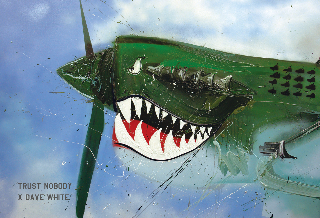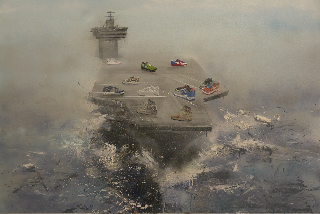 BBHewee Maintenant parle-nous de la ligne de vetements Dave White.
Dave White On voulait faire en sorte de presenter une gamme complete, qui reflete les qualities de mon travail tout au travers de la marque. Nous avons trouve les meilleurs tissus et procedes, et les gens s'en rendront compte lorsqu'ils verront les vetements. Les tee-shirts sneakers ont ete imprimes 12 fois et on le meme look que les peintures, tant au niveau de la texture que de la surface. La premiere saison montre aussi quelques elements que j'explorais, comme un camo eclaboussures de peinture ou un cement print. Elle arrive en magasin en ce moment!
BBHewee J'ai parle a Scott de MIKE un peu plus tot, and il veut collaborer avec toi (si ca marche, je prends ma com'!). Qu'en penses-tu? Il y a-t-il d'autres noms avec lesquels tu voudrais collaborer?
Dave White J'adore MIKE et Scott est un mec genial. Je ferais une collaboration qui traite la marque MIKE a ma sauce, comme une version personnelle du logo des Bulls ou du numero 23. Sinon, il y a beaucoup de marques avec lesquelles j'adorerais travailler: Ferrari serait un reve! Louis Vuitton, Chanel, Supreme, Medicom… Ce doit etre des marques que j'aime.
BBHewee Tu m'as dit en venant ici que tu avais encore une expo a New York pour Coca-Cola. J'ai vu Futura et Jeff de Staple a ton expo, parmi quelques autres tetes connues. Comment gardes-tu la tete sur les epaules avec toute l'attention que l'on te porte?
Dave White Coca-Cola m'a effectivement demande de peindre ma version de la nouvelle canette de Cherry Coke pour le lancement a New York. C'est enorme et un grand honneur qu'il me l'ait demande. J'ai ete assez surpris de me retrouver dans le meme line-up que Jay-Z et autres. J'aime juste ce que je fais, et je suis reconnaissant.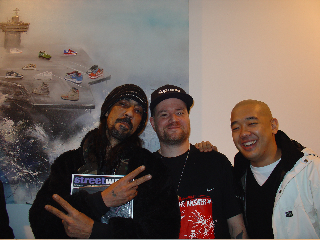 BBHewee Dave, je sais que beaucoup de gens aiment te critiquer en disant que tu ne sais faire qu'une chose. Qu'as-tu a leur dire?
Dave White Tous les artistes utilisent un sujet particulier, J'ai explore les sneakers, comme Turner a fait des paysages, ou Monet a peint des nenuphars. Pour s'affiner, un artiste se doit d'explorer. Tu verras que beaucoup d'artistes urbains retournent toujours vers leur style personnel. Ensuite, les gens voient ce qu'ils veulent bien voir. Je pense que cette derniere exposition montre ce que j'ai a montrer et laisse augurer de 2007.
BBHewee Les sneakers, les voitures, Star Wars… Tu es a peu pres autant geek que moi. Est-ce que je peux me permettre de suggerer le prochain sujet?
Dave White Non, parce que j'y travaille deja! Haha. C'est prevu pour un vernissage en decembre 2007 au Art Basel Miami. C'est mon meilleur travail jusqu'aujourd'hui, et quelque chose qui me tient enormement a coeur.
BBHewee Et a part ca, que peut-on attendre de Dave White?
Dave White La deuxieme saison de la marque de vetements, des peintures, des collaborations et quelques surprises. Et un tour d'Asie pour promouvoir la marque ce printemps, et je suis super content d'y retourner.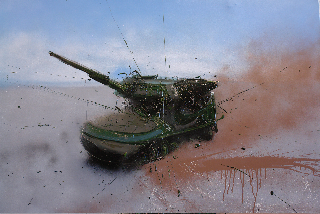 BBHewee Je sais que beaucoup de gens veulent savoir ce qui se passe avec la Stab Neon. Tu m'avais dit qu'elle resterait a l'etat de sample la derniere fois que nous nous sommes vus, mais des rumeurs ont refait surface. Est-ce que tu as plus d'infos pour nous?
Dave White Je suis en pour-parler avec Nike, et nous prevoyons quelque chose de special, mais c'est tout ce que je peux devoiler pour le moment. Tu ne peux pas t'imaginer le nombre de mails que je recois a ce sujet. Haha!
Merci a Dave White pour son temps. www.davewhite.me.uk
English Version
There is no need for me to introduce Dave White anymore. Paintings, collabos, clothing, he's become one of the most recognizable faces in the streetwear/sneaker scene. Here's a quick interview with my man in Barcelona during Bread Butter.
BBHewee Tell us a little about the exhibition in Barcelona, and your work with the Trust Nobody crew.
Dave White The show was entiltled « The Court's a Battlefield »: it was in conjunction with Trust Nobody and Nike to celebrate the AF1 25th Annivesary. I had been working for 9 months on this new work. It was all about the AF1, from its advantages it brought to the basketball court, to the effect it has on us all, collectors, and heads alike. Using tongue in cheek military overtones, with titles such as 'Chalked Up Another Pair' and 'Air Force Carrier'.
BBHewee What's up with the Dave White clothing line?
Dave White We wanted to get a whole line out there and most importantly reflect the qualities of my work into the brand throughout. We sourced the best materials both in terms of quality and processes. This will be obvious when people see the garments. The Sneaker tees have been screened 12 times and look identical to the paintings in terms of texture and surface. Season 1 reflects a few things I had been exploring such as paint splat camo and cement print. It's dropping as we speak!
BBHewee I talked to Scott from MIKE earlier, and dude says he wants to collaborate with you. What do you think (if that one works out, I want commission!)? Who else would you want to work with?
Dave White I love the Mike brand and Scott is such a nice guy! I would be exploring something that complements the MIKE brand so the twist is real important. I think my version of the Bulls head or the 23 would be a nice way to push it.There are lots of brands I would love to work with. Ferrari would be a dream! Louis Vuitton, Chanel, Supreme, Medicom…. it has to be things I love.
BBHewee You told me on the way here you had another exhibit lined up in New York for Coca-Cola. I saw Futura and Jeff from Staple tonight, among many other famous names in the streetwear/urban lifestyle industry. How do you keep a cool head with all the attention?
Dave White Yeah I was commissioned by Coke to do my version of the new Cherry can for the launch in New York, it is a pretty big deal and a total honour to be asked. It was a bit of a shock to be in the same line up as Jay-Z and the likes. I just love what I do and am very grateful.
BBHewee I know a lot of people have said that you were a one-trick pony. What do you have to say to them?
Dave White All artists use subject matters. I explored mine with the sneaker works, much the same as Turner explored Landscapes or Monet Waterlillies. To refine, you explore, it's part of what we do. You will see that a lot of urban artists always go back to their signature style and characters. People see what they want to. I think « The Court's a Battlefield » show said it all and that is just the start of what is to come for 2007.
BBHewee Sneakers, cars, Star Wars… You're about as much a geek as I am. Can I suggest the next topic Dave?
Dave White Nope. Haha. Because I am working on it right now. December 2007 is the drop at Art Basel Miami. They are my best works to date and something very dear to my heart.
BBHewee And what's next for you now?
Dave White Busy painting and working on some collabs, season 2 with the brand, and a few surprises. An Asian Brand launch tour which I am vey excited about – that is calling for the Spring and I'm real excited to get out there again.
BBHewee I know a lot of people want to know what's up with the neon Stab. You told me a while back it wasn't going to be released, but rumors have been going on and on. Can you tell us what the deal is once and for all?
Dave White All I will say is, I am in talks with Nike and we're planning a special release but that's it. You won't believe how many emails I get about those neon Stabs! Haha!
Thanks a lot to Dave White for his time. www.davewhite.me.uk