Interview réalisée par BBHewee
Original interview (in english) on the bottom of the page
BBHewee : Jason, cela fait six mois qu'on ne s'est pas vus, et tu arrives avec plein de projets. Parle-moi un peu de cette collaboration.
Jason : Cela fait plaisir de se voir a Barcelone. Je vois ce que tu veux dire avec les projets en cours… Mdot et moi sommes en train de jongler avec un certain nombre ces temps-ci, et nous sommes heureux de pouvoir travailler sur quelque chose qui nous fait plaisir. Mdot t'expliquera un peu comment tout est arrive puisqu'elle s'est occupee du design et de la communication pour la majeure partie, pendant que je supervisais le developpement, meme si nous avons au final tout fait collectivement!
BBHewee : Tilt a dessine l'artwork pour cette paire. Jason, en tant que designer toi-meme, que cela fait-il d'avoir quelqu'un d'autre appliquer son design a l'une de tes creations.
Jason : En fait, Tilt a d'abord dessine l'artwork pour Kid Robot, qui ont ensuite travaille avec nous pour faire une sneaker utilisant ce design.
Cependant, lorsqu'on travaille sur des SMU (Special Make-Up) ou des projets collectifs en tant qu'OEM (Original Equipment Manufacturer ou fournisseur), nous savons des le depart que c'est un process collectif, et que nous n'allons pas controler toute la collaboration. Nous aimons juste faire ces mix pour elever notre marque et les autres dans la foulee.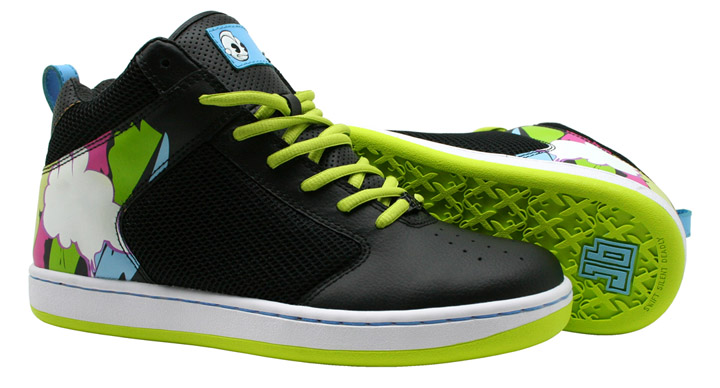 BBHewee : Mdot, quand on parle de JB Classics et de Kid Robot, il y a beaucoup de buzz pour les deux marques independemment de l'autre. De ce que j'ai compris, tu t'es occupee de la communication entre KR et JB. Comment dans un projet pareil peut-on conserver l'identite de chaque marque, sans sortir un produit qui est un Frankenstein complet?
M-dot : En fait, voila comment ca se passe: nous travaillons sur une base de SMU avec KR, donc nous leurs envoyons les templates, auxquels ils appliquent le graphisme et la direction artistique. Puisque notre expertise est dans la sneaker, ils nous donnent carte blanche en ce qui concerne les materiaux et les details. Donc sur cette edition, qui est notre deuxieme collaboration avec KR, j'ai recu les fiches techniques et je me suis lachee avec.
J'etais particulierement excitee par cette collaboration pour plusieurs raisons; j'adore ce graphisme de Tilt, et nous avons travaille sur mon modele prefere, la JB Peddler, qui etait notre reponse a un vide sur le marche: la silhouette d'une botte avec les details d'une sneaker. Donc 1er sample, 2eme sample, et nous approuvons tous le resultat, nous ficelons les derniers details (nombre de paires, date de sortie…), nous lancons la production, et tout est sur un bateau pour les US.
En ce qui concerne l'identite de la marque, c'est vrai que cest tres important pour nous. Nous existons et subsistons depuis 6 ans en tant que veritablement independants, auto-finances, et ne nageant pas dans le cash, donc nous en profitons aussi pour ne pas entreprendre de projets s'ils n'ont aucun sens pour la marque.
BBHewee : Est-ce qu'il y a un moment pendant l'elaboration ou tu commences a te dire: "jamais le resultat ne sera a la hauteur de la vision de depart". Quel est le degre de compromis?
M-dot : Absolument pas! Nous avons une superbe relation avec KR. En fait, nous ne travaillons jamais avec quelqu'un qui suggere un compromis sur l'identite de la marque. La fusion doit avoir du sens.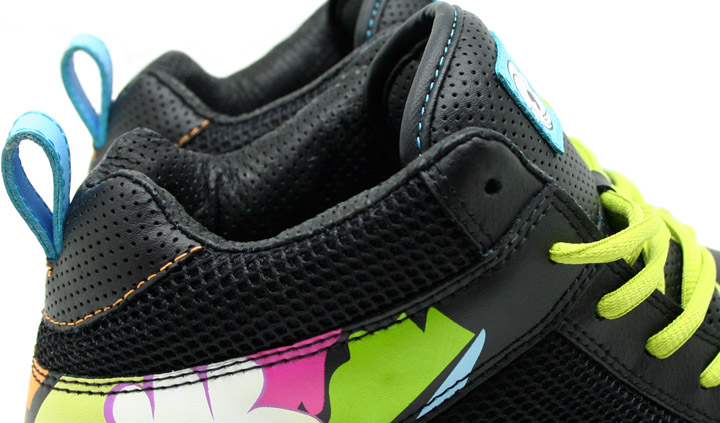 BBHewee : Soyons honnetes: il y a un million de collaboration en ce moment, mais celle-ci est certainement l'une de plus excitants que j'ai vues depuis longtemps. Qu'est-ce qui d'apres vous rend ce projet si special?
Jason : Tout a commence lorsque nous avons lance il y a quelques annees notre propre toy appele le BULLY Project. A cette époque, nous avons commence a parler a Kid Robot, et tout est parti de la. Donc quand ce projet a commence, rien n'a ete force, et ce n'etait pas un co-branding a la va-vite. Toutes les collaborations sont si proches l'une de l'autre ces jours qu'elles finissent par devenir des copies d'un autre projet. Ce n'est pas notre objectif, ou quelque chose auquel nous voulons etre associes. Nous travaillons en fait avec des gens talentueux qui partagent notre vision, et voient les choses a long terme.
M-dot : Comme je l'ai dit, la relation est deja la, et elle fonctionne. Nous avons une relation de longue date avec KR, et KR est en plein expansion, avec la ligne de vetements et plus de toys, et aussi un show TV (je ne peux rien dire de plus). De meme, a JB, nous avons beaucoup de projets en cours. Donc au final, lorsque la synergie est la, tout le monde est a la meme page. C'est aussi pour ca qu'il y a encore beaucoup de choses a venir!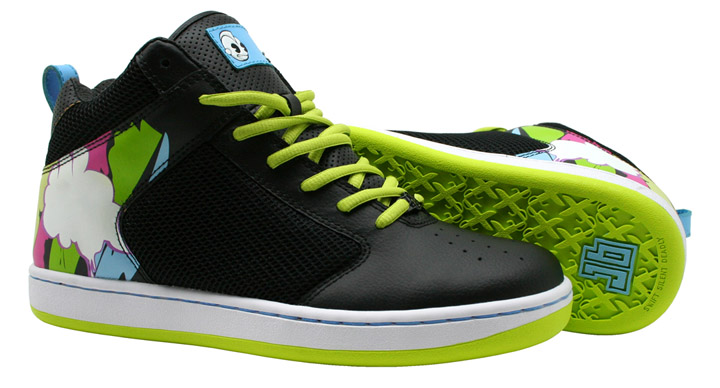 BBHewee : Jason, tu es autant un designer de sneaker, un connaisseur, un amateur, et un technicien. Le graphisme est assez detaille sur cette paire, et meme si c'est pour cela que tu es connu, est-ce que tu as rencontre des difficultes particulieres pour la production?
Jason : Tout s'est en fait passé tres bien. La seule reelle difficulte etait de s'assurer de la constance de la qualite de l'impression, et que toutes les paires sont propres et alignees.
BBHewee : JB Classics a ete connu jusque la surtout au travers de la personne de Jason. Mdot, qu'est-ce qui est le plus difficile quand on travaille avec Jason? Et meme question pour Jason en ce qui concerne Mdot?
Jason : Ouais, je n'y pense jamais vraiment en ces termes, mais c'est genial d'avoir quelqu'un capable de transposer parfaitement la vision tout en y ajoutant ses instructions, et ses directions avec une approche a la Martha Stewart "construire un empire". Je l'admire pour beaucoup de raison, et ce qui est le plus gratifiant est que chacun se nourrit des idees de l'autre quotidiennement. C'est aussi marrant de voir les mecs dans l'industrie qui sont choques de voir une femme aux commandes de tout le spectre d'une marque. Je dirais que le plus difficile au quotidian est quand nous ne sommes pas synchros…
M-dot : Hahahaha! Enfin! Travailler avec Jason est une veritable lecon. En sa presence, je me sens encore plus poussee, toujours en train d'apprendre quelque chose de nouveau tous les jours.
J'ai integre la marque fin 2004, dans cette entreprise ultra niche. Au debut, j'avais comme responsabilites le marketing, les relations presse, et les ventes, et la liste a tres vite augmente. Jason est definitivement le type de personne qui ne croit que ce qu'il voit. Donc je me suis vraiment motivee tous les jours depuis le premier pour apprendre toutes les facettes de la gestion d'une marque independante de sneakers. S'il y avait quelque chose que je ne savais pas, je me debrouillais d'une maniere ou d'une autre pour l'apprendre. Comme je m'occupe de la partie business, cela est venu naturellement, et la partie creative se developpe chaque jour dans nos echanges d'idees.
Apres un peu de temps, j'ai gagne le respect de Jason, et je me suis retrouvee co-directrice de la vision d'une marque. Donc je ne fais pas que travailler a JB Classics, je vis le reve tous les jours.
BBHewee : Que pouvons-nous esperer voir de JB dans le futur? Dans le monde et en France?
Jason : Nous allons lancer une collection de vetements dans les mois a venir. Nous allons aussi lancer avant notre collection pour les fetes nos projets avec Ford Motors, DC Shoes, Funkmaster Flex, Sneakerpimps, Ride Snowboards… Nous allons aussi bientot lancer notre plateforme de distribution Europe, pour rendre tous nos produits disponibles et accessibles. En ce qui concerne la France, BKRW propose toutes les dernieres sneakers (respect a Jay pour le soutien).
M-dot : Comme Jason vient de le dire, nous avons pas mal de trucs en cours. Je suis particulierement excitee par les nouvelles silhouettes et nouveaux accessoires pour femmes. Nous sommes connus comme marque pour homme, meme si nous avons lance des modeles mixte cette annee. Pour le printemps 2008, nous lancons deux lignes, une ligne premium sur laquelle nous avons augmente la qualite generale, et notre ligne standard, avec toujours la qualite, mais plus accessible et avec une distribution plus large. Cette ligne repond a la question que l'on nous pose partout "ou puis-je acheter vos kicks?' Il y a aussi toute une gamme d'accessoires qui arrive, donc faites bien attention.
ENGLISH VERSION
BBHewee : Jason, I haven't seen you in 6 months. And it looks like you had some big projects in the pipeline. Tell us a bit more about this collaboration.
Jason : It was great catching up in Barcelona Daniel. Yah I hear ya about projects in pipelines… Both Mdot & I have been juggling quite a
few these days. We're just happy to be working at something we enjoyed doing. As for the latest Kid Robot / Tilt release, Mdot can walk you through how it all took place, since she handled the design & communications, while I handled the development / developer role for the most part. Although, we collectively worked everything out!
BBHewee : Tilt designed the artwork for this sneaker. Jason, as a designer yourself, how does it feel to have someone else apply their design to your creations?
Jason : Actually the artwork initially was designed by Tilt for Kid Robot; Kid Robot then worked with us to build the shoe using the artwork.
However, when we're working on SMU's or OEM joint projects, we know going into it, that this is a collective process and we are far from being controlling in a collective operation. We just enjoy building great collisions and elevating our brand & others along the way.
BBHewee : Mdot, when it comes to KR and JB, there's a lot of buzz for both brands, independently of one another. As I understand it, part of your role was managing communication with KR and JB. How do you manage in such a project to keep true to each brand's identity and still come out with a product that isn't a total Frankenstein?
M-dot : Well, actually this is how it really went down…We worked along the lines of an SMU (special make-up) program with KR, so we sent them the templates, they applied the artist's graphic and overall color direction. Since we make kicks, they gave us free range to freak it with materials and details. So on this particular edition, which is our 2nd edition with KR, I received the spec sheet and went to town on it. I was particularly excited to do this one for many reasons: I loved this Tilt graphic; and it was on my favorite model, the JB Peddler, which was our answer to a void in the market. Just a classic boot silhouette with the aesthetics of a sneaker. So then 1st round, 2nd round sample & we're all feeling the end result, we talk production numbers, release dates, and push the button for production, then on a vessel to the States.
As for staying true to the brand's identity, yes… This is a very important element to us, we've maintained and sustained for 6 years being a truly independent, self-financed, not-dipped-in-cash-money company, so we take advantage of the independence: if it doesn't make sense, we don't get involved.
BBHewee : Is there any stage during the process where you start thinking: "there's no way is going to be as good as what we had envisioned". How much compromising is there?
M-dot : Not at all! It's a great working relationship with Kid Robot and JB Classics. Basically, we won't work with anyone that suggests compromising the brand's identity.
The collision has to make sense.
BBHewee : Being honest, there's a million collaborations out there, but this is probably one of the most exciting ones I've seen in a while. What do you think makes this project so special?
Jason : It started out when we independently released our first toy a few years ago called the BULLY Project. At the time we started talking with the Kid Robot offices and built some history with them. So when this project was initiated, it was not forced or following the standards of a quick co-branding scheme. Many of the collaborations taking place these days are so so so close to each other, they come off like photocopy of the next guy project. This is not our objective or anything we want to be associated with. We are basically working with like-minded talents that share a similar vision and embrace longevity.
M-dot : Like I said, the working relationship is there, it works! We have a long-time relationship with KR. Also, Kid Robot has been pushing real hard the last year, with their apparel line, more toys, and something about a tv show (don't know if I can reveal anymore)… Likewise, here at JB Classics Lab, we have a lot in the pipelines. So it definitely shows in the end result when the synergy is there: everyone's just on the on the same page. That's why there is more to come!!
BBHewee : Jason, you're as much a shoe designer, connoisseur and lover, as you are a sneaker technician now. There's some pretty intricate graphics on this shoe, and although everyone knows you for that, were there any particular challenges in the manufacturing process for this particular shoe.
Jason : Everything ran pretty smooth, the only challenge was keeping a printing standard on the layered artwork and making sure the artwork was clean & aligned on all produced.
BBHewee : JB Classics has until now been mostly known through Jason's face and name. M-Dot, what's the hardest part about working with Jason? And the same question to Jason about M-Dot?
Jason : Yah, I never really think of this way, but it's great to have a partner who handles the vision seamlessly, adding her directions & paths with a Martha Stewart "building an empire" approach.
I really admire her for many reasons. The one thing that's very rewarding is we feed off of each other daily. It's also really funny to watch dudes in the industry getting bugged out that a female is in co-command of the entire brand scope. I would say the hardest part of grinding together everyday is when our timing gets a little mixed up…!
M-dot : Ahahaha! Finally! So working with Jason Bass has been a true learning experience. Working in his presence definitely pushes the competitive side of me, always learning something new every day.
I came in around late 2004, into this ultra niche sneaker company. My initial responsibilities were marketing, press relations, and sales, but the list grew shortly after. Jason is definitely the type of person that doesn't believe anything until he sees it. So with that said, I pushed myself, every day since that first day, to learn every facet of running an independent footwear company. If I didn't know how to do it, I got resourceful and made it my course to learn. Since I am rooted in business, the business part just came naturally, and the creative part just gets enhanced daily as we bounce off each other. After some time, I gained mad respect from Jason and next thing I know, we are co-directing a brand's vision. So I don't just work here at JB Classics, I live the dream everyday!
BBHewee : What can we expect to see from JB in the future? Worldwide and on the French market.
Jason : We'll be releasing some select apparel items over the next few months. Also, prior to our Holiday footwear release, we have some great joint project with Ford Motors, DC Shoes, Funkmaster Flex, Sneakerpimps, Ride Snowboards… We will also finally be launching our Europe distribution platform, so all of our projects are accessible. As for France, today you can stop by BKRW to pick up the latest (much respect to Jay for all the support).
M-dot : Well, like Jason mentioned, we have a lot in the pipelines. I am most excited about the new silhouettes & accessories for the ladies. We're definitely recognized as a mens brand, although we have been releasing cross-gender designs the last year or so. Also, releasing this Spring 08, is the launch of two lines: our premium line, which we enhanced the levels, so you know its next level premium; the second line is our PRIME LABEL, quality still there, just more accessible to everyone out there, a larger distribution platform… It's basically our answer to all the inquiries we've received globally… "how can I buy your kicks??
Also, full scope of accessories are coming in the near future…so stay tuned!